I'm almost done making over my living room. And today I've finished 3 projects, 2 of which I have been kind of putting off. One of them is my fireplace mantel. I needed time to figure out just how I wanted it. This isn't exactly what I had planned but I went to a thrift store and found some balance scales and decided I would just go with it. They are vintage and I'll be making them over later, but for now I'll put them up with the pic I have.
Scales are kinda a cool thing now in decor. Here is one I like from none other than Z Gallerie. These are $229.50. Ouch! Not for the budget minded. Mine are vintage so they're not as sharp, but a little updating later on and they will be good to go. Not to mention for a measly $4.95, you can't beat it.
So, here is my black and white mantel (the whole theme of my living room is pretty much black and white).
The 2 rhino's were from Z Gallerie and they were a gift to me. I have been wanting a quatrefoil mirror and was going to purchase a cheapy from Lowe's for about 60 bucks. It was nice to see that T.J. Maxx had one that I liked better and it was only about 35 bucks! I wanted to put a vintage spyglass on the mantel but knew I had to grab the scales when I saw them at the thrift store for about 4.95! All I have left is to update the scales and add a couple of pillar candles to my candlestick holders. Oh, I almost forgot, the candlesticks are from Z Gallerie as well. They are Mariposa candlestick holders.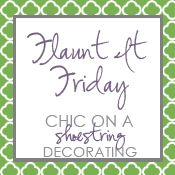 Linking up at:
http://www.creatingreallyawesomefreethings.com/
http://www.homesavvyatoz.com/savvy-homemade-monday-23/
http://sumossweetstuff.blogspot.com/
http://www.thegirlcreative.com/
http://itsablogparty.com/
http://craftomaniac.blogspot.com/
http://daysofchalkandchocolate.blogspot.com/2012/01/latest-and-greatest-13.html
http://savedbylovecreations.com/2012/01/thrifty-thursday-week-57.html
http://nominimalisthere.blogspot.com/2012/01/open-house-party_11.html
http://jaimelyn11.blogspot.com/2012/01/crafty-scrappy-happy-me-thursday-17-and.html
http://thriftydecorating-nikkiw.blogspot.com/2012/01/thrifty-thursday-42.html
http://www.the36thavenue.com/2012/01/the-polka-dot-wall-and-cutting-edge-stencils-giveaway.html
http://romantichome.blogspot.com/2012/01/show-and-tell-friday_12.html
http://whipperberry.com/2012/01/friday-flair-link-party-9.html